With Christmas just around the corner, a lot of us are getting the holiday jitters and are itching to join in on the festivities. One of the best ways you can show off your holiday spirit is through your home decor! You might think you've got that covered with your  Christmas tree but there are so many other ways to make your space merry and bright. Throw some holly on the hearth, hang some mistletoe above the foyer, or flood the window sill with pine-scented candles – it's never too much. Don't forget to show some  love to these areas in your home so that you can transform it into a holiday hub!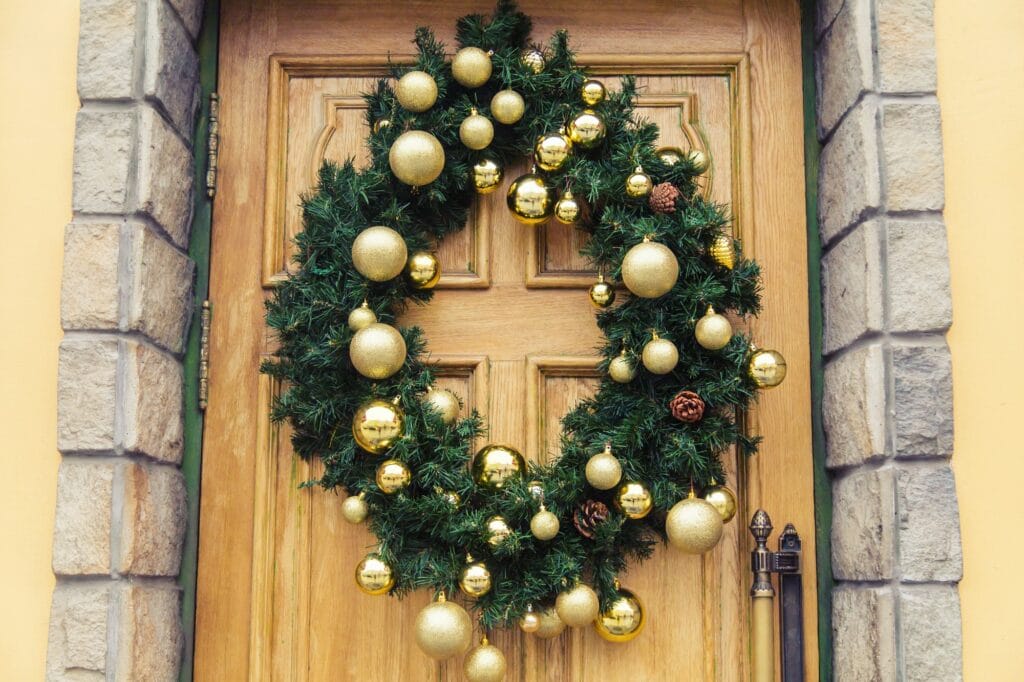 Christmassy Gates 
This holiday season, think of your front door as the magical gateway to the North Pole. Your doorway is usually the first impression of your home and therefore, should be the first hint of holiday spirit to each and every guest. Go natural with some garland and a soothing aromatic wreath. Create a more enchanting feel by draping twinkly white lights around the entry or tying gold twirly ribbons to the posts. Hang icicles from the top of the porch for an evergreen, winter look. Whatever you do, make sure it packs a christmassy punch and greets you with a warm, holiday welcome every time you come home from a long day's work.
Merry on the Mantle
If you're fortunate enough to have a fireplace in your home, don't leave it out of the holiday fun. This is the perfect opportunity to change things up – move around the family photos and grandma's chotchkies and make room for candles and holly. You can sweeten things up with some red berries or create a christmassy glow with lights and candles. Go on a winter walk through your neighborhood or local park and pick up some pine cones along the way to display over the hearth. If you don't have a working fireplace, fill the fire box with poinsettias, vibrantly wrapped gifts, or christmas momentos. Let the fireplace serve its purpose as one of the classic holiday focal points in your space!
Elvish Shelves
Don't have a grand fireplace to dress up this holiday? Do you live in an apartment that doesn't have an impressive entrance to bedazzle with holiday splendors? Don't worry, you're not out of the running just yet. Work with what you've got and hang holiday decor on your shelves! Adding lights or garland to your existing furniture and surfaces can make all of the difference and really add warmth to your space. You can also choose berries, festive candles, sparkly ornaments, stockings, tinsel, winter animal figures, or really anything that makes your holiday spirit soar.
Santa-approved Centerpieces
If there's one thing you can't forget, it's a holiday centerpiece. Big, small, simple, or over-the-top, it's completely up to you – and the best part is, you can usually put them together yourself with items that are sitting around your house. Grab your most festive display bowl and get to work – pine cones and gold flowers, pine branches and holly, candles and dried petals, or peppermint candies and ribbon. Throw it all together just right and you'll end up with wonderfully festive arrangement.
If you're feeling ambitious, you can try to make centerpieces for each of the major surfaces in your home – dining room and coffee tables, sideboards, desks, nightstands, or even dressers. If that seems a bit too much, start with your dining room and work from there.
Wintery Window Sills. 
Do you have a big bay window that has the perfect view of winter flurries? Is there a reading nook that could be even cozier with just a touch of holiday cheer? Windows and window sills are another area to spruce up this holiday and if you do it just right, envious bypassers outside your home will be framed perfectly by your chic and festive Christmas decor. Warm your window with Christmas candles and Forest Green ribbons for a more classic look. If you're sick of this typical go-to, choose a winter theme and dust the sill with fake snow and other sparkly touches. This could also be another great opportunity for a home project, maybe even one for the kids – snowflake cut-outs and festive mobiles make for a merry as well creative holiday look.
Holly – here, there, EVERYWHERE!
Fireplaces and windows are great options for some extra holiday flare but don't let that limit you, there is room for festive joy everywhere in your home. A great way to fill every inch of your space with cheer is with smell – gingerbread-scented candles on the nightstand, cinnamon sticks in the foyer, or mini pine trees in the wash room – these small additions will ensure that you receive a warm and welcoming holiday greeting in every room of your house.